Althea Thauberger
26 January to 3 March 2012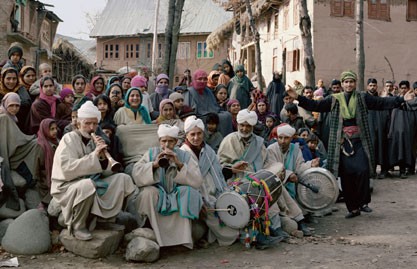 Althea Thauberger's work with groups sitting on unexpected cultural or social margins are often collaborations that defy typical ethnographic research. From military wives to aspiring singer-songwriters to conscientious objectors, Thauberger positions her subjects as co-creators. The projects they develop together become vehicles for self-expression, and make-believe, resulting, paradoxically, in disquieting documents that are eclipsed by their honesty. But one thing her work certainly is not is prescriptive: Thauberger's photographs and videos consistently bring societal and political issues to the fore yet they purposefully evade replicating entrenched positioning, preferring to remain in a tenuous and self-critical space.
Following a trip to Indian-administered Kashmir in late 2011, Thauberger met and worked with a Bhand Pather theatre group to produce her latest work. Bhand Pather is a traditional theatre practiced by a Kashmiri nomadic class, and first entered the region in the 14th century. Of Persian origin, it is typically a satirical form that presents traditional stories peppered with improvosation related to current political issues and figures. Though the region of Kashmir has long been a disputed territory occupied by outsiders, the separatist insurgency of 1989, with its subsequent massive Indian military response, has had a devastating impact on the area, including ongoing human rights violations and cultural suppression. During these years, Bhand Pather was not performed publicly as it had been before. Recently, the Delhi-based theatre director M.K. Raina, worked with a troupe in the village of Akingam to stage an adapted version of Shakespeare's King Lear. After photographing a re-enacted version of one of the performances with local director Gul Mohammed Bhagat, Thauberger presents her documentation as a large-scale photo mural in which pivotal scenes from the play appear as a synchronous tableau. The production of King Lear in Kashmir seems to imply much more than an exploration of Shakespeare's great tragedy. The plot of the play (in which the aging king divvies up his land to his daughters, causing great catastrophe) could present an obvious parallel to the fraught politics and territorial boundaries of Kashmir, however, Thauberger is interested in fractures of this mirroring. Furthermore, the work suggests an interrogation of cultural movement, appropriation and imperialism, from a Delhi-based project to present an adaptation of a Hindi translation of a seminal English play, to Thauberger's involvement as an outsider, to the degree of detailed visual scrutiny the large scale mural affords the gallery viewers. Subtly, this intrusion is relayed to the viewer as each of the mural's figures—who appear at almost life size—unabashedly return their gaze, embodying a broader cultural and political hall of mirrors.
This unselfconscious depiction of the body in the Bhand Pather mural is echoed in the other works Thauberger has on view. On the second floor, a series of black and white photographs depict images from a 1930s nudist colony that the artist printed from a series of old glass negatives. Each photograph depicts men and women at leisure in various settings, framed by stains and other signs of wear and tear that corrupt these negatives. While the poses of the actors in the Bhand Pather take on an affected theatricality, the figures in these photographs transmit a similar provocation with their naked bodies. And yet, even in the past, the images of the nudist colony illustrate the capacity to act out an autonomous utopia, while in Kashmir, a tragic play highlights that sovereignty and peace in their present time is not yet a reality.