Oliver Husain & Malik McKoy
lenticoolers
15 April to 20 May 2023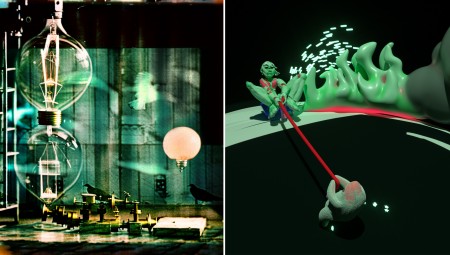 In an essay by Paul B. Preciado in 2017, he writes, "screens are the new skin of the world."

Over the last couple of years, technology has had a rather polarizing response, with many leaning into these virtual spaces and others intentionally pursuing a life offline. For months, we watched eyes on a screen, convincing ourselves that whoever we were looking at really saw us. Ultimately, it was always our screens looking back at each other. Our screens, like pseudo skin, have become the contact point between our bodies, avatars and everything else.

Instead of oscillating between "superpower ravings and the paranoia of complete powerlessness," with its ongoing development, lenticoolers suggest a consciousness of the metamorphic characteristic of technology. Seeing the progress in software like virtual reality and artificial intelligence as tools to reimagine histories, put images to myths, and question constructed identities and human biases. Through an interest in lenticular effects and critical queer investigations of image technology, the works in this exhibition range from historic speculation to reflections of an uncanny contemporary existence.