Derek Sullivan
9 September to 16 October 2021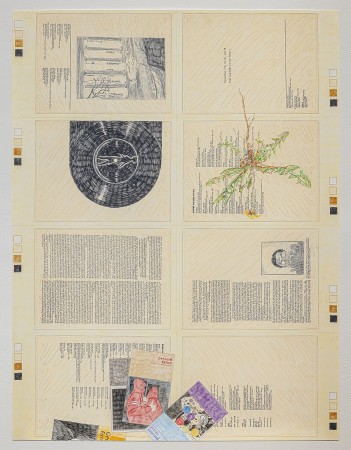 Every day is the same. Every day is different. / Evidence of the Avant Garde (ex-library) project

In the early days of the pandemic, time took on a new feeling. It was closed and personal, yet marked by the ever-changing and ever-same reel of pandemic news. Enzo Mari passed, from Coronavirus. His iconic calendar, meant to cause pause, ironically surrenders to our temporal present.

Our current time is slow, but threatening and uncertain.

These pandemic days bring attention to themselves in an easy and uncomfortable rhythm, like that of the perpetual calendar, or the stopping places of a bookmark as you work your way through a publication.

Units mark the page with keys of color, line, texture, and form, all in offbeat sync with this moment in flux.

Mari's Formosa perpetual calendar (produced by Danese Milano in the early 1960s) - an object meant to liberate labor from time, actually conflicts with Sullivan's early experience with it. For him, it was the perpetual day after day task of pausing to arrange the calendar that conspired with the theft of capitalism. Bringing attention to the endless exchange of wages for time.

This aspect of the calendar is propelled into the present; in a new cadence of waiting, wanting, and unremitting expectations of decentralized labor.

Weeds, prisms, rainbows, exhibition pamphlets and metro tickets all veil the surface of Sullivan's intricately rendered drawings of Art Met's publication "Evidence of the Avant Garde Since 1957".

An assemblage of content and form weaves both the material of the catalogue with observations from Sullivan's every day; they are a poetic reflection on the unpredictable pathways and networks that works-in-multiple move upon.

Sullivan's drawings show a reverence for things, how they touch us, what they tell us, and what they cannot disclose. This is an experiment in "slow reading" that hints towards the hopeful sentiment that something may still develop from moments of pause.

To trace is to remember something. To capture the fleeting sentiment of convictions lost but not forgotten. Perhaps these reproductions manifest the collective unwavering for a wanting of a vital front? A finale that may yet throw a wrench into the frenzied state of mass accumulation and material excess.

An idea which allows one to float, temporarily.

But slow-time no longer seems to present the same beauty as it once did. Slow time is pandemic time. And, pandemic time is a perpetual calendar, with an asynchronous rhythm, that hums like the murmured heartbeat of the Avant Garde.