Derek Sullivan
¶ * † ‡
18 October to 24 November 2018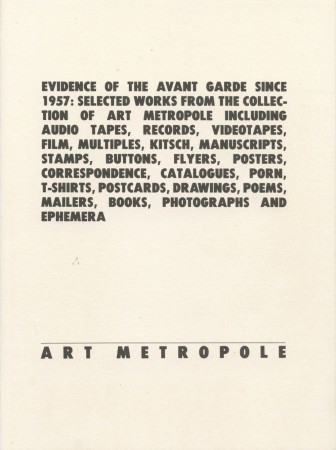 "Art Metropole is a museum of cultural flotsam, housed in a home-made ark and cast on a sea of the very material it collects. A history of seaweeds and minor organisms surrounds us, a continuous chaos of colliding flora and fauna and their cast-off skins, shells and skeletons. Like Jacques Cousteau we dive into these primordial depths, collecting fragments, retrieving relics, and . . . looking. For it is this very hunger to see which animates our voyage…"
-AA Bronson in Evidence of the Avant Garde Since 1957
Derek Sullivan's drawing series examines the question of how a book is perceived and the potential it carries. While many can appreciate a good story transporting us to a different head space, Sullivan wonders about the spaces a book physically travels throughout its lifetime. How many places does a book travel to and what does it pick up along the way?
In
¶ * † ‡,
a closer look at Art Metropole's
Evidence of the Avant Garde Since 1957
reveals 6 new drawings that depict what one can only guess is the beginning of the book's journey – the printing stage. In each work, 8 pages of the catalogue sit on the surface horizontally, forming a signature. The tops of the pages face one another, inviting a tilt of the head to read the content. The de-familiarized portrait of the book serves to emphasize the physicality of the codex.
Art Metropole's original book illustrates a period in the artist-run centre's existence that analyzed the distributive works from their collection up to 1984 when it was first published. As the front cover of the book states, "Evidence of the Avant Garde Since 1957 consists of: selected works from the collection of Art Metropole including audio tapes, records, videotapes, film, multiples, kitsch, manuscripts, stamps, buttons, flyers, posters, correspondence, catalogues, porn, t-shirts, postcards, drawings, poems, mailers, books, photographs and ephemera". Sullivan's drawings play with the content, serving as a replica to the original publication, while also introducing content that is replicable and multipliable in its essence. Signifiers collide and scatter on the surface, suspending the timeline of where content begins and where it ends.